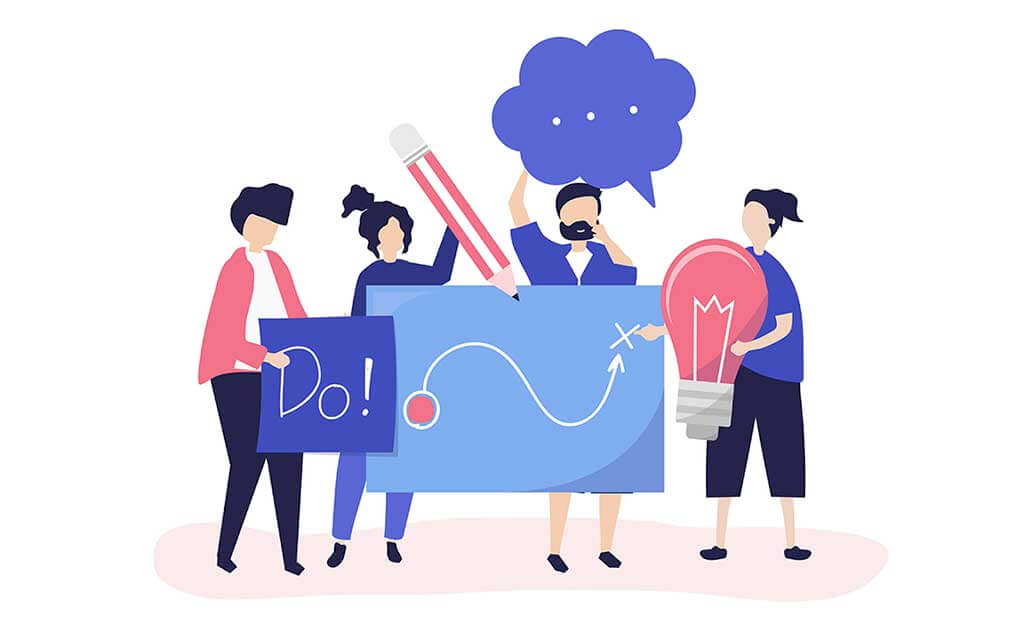 Are you a manager with a few or a lot of employees directly reporting to you? It is sometimes becoming frustrating to manage them and you don't know where the problem is, to begin with? There are certain characteristics that transform you from a good manager to a great one. And help you in increasing your team productivity; and the good news is, that they could be learned. Here in this post, we are talking about the most important characteristics that will help you to increase your team productivity. 
1. Be a compassionate leader
Be a relatable person instead of an overbearing boss could be the first key point about increasing team productivity. Employees are humans in the first place, they have lives and problems other than what happens in the workplace. If you want them to feel devoted to their jobs, they need to feel understood and trusted by their colleagues and even more importantly by you.
If you see your employee is not delivering a timely result, first ask them humanely what's up in their life. Maybe their reasons are valid enough for you to get convinced. 
And learn how to empathize with your employees whenever necessary. Sometimes a small amount of empathy goes a long way and leads to a much better performance in the future.
2. Give positive feedback and motivate
From the perspective of an employee, a small compliment, or an acknowledgment of what they have done right is really valuable and rewarding. It will boost their confidence and motivation to do the task with all their energy. So, team productivity would be increasing.
Imagine that you hire an animator. How could you give some feedback? Good leaders know that giving positive feedback from time to time to their employees has a positive impact on them and their performance. So, it will give them extra energy to proceed and complete the task.
3. Don't penalize or patronize
Unlike motivating and giving positive feedback that boosts the energy and team productivity of the employees, penalizing them. Why? Because of their mistakes. You can do this, especially in front of others has a detrimental effect on them and the job they are going to do. It disincentives them so, you will probably end up with poorer results as well as a disloyal employee. 
This penalizing, when done in front of others, have a negative effect on the rest of the team as well, as it creates a negative image of you as a leader who might treat any other employee the same way at any time.
This approach to modifying employees' behavior or actions only could increase the anxiety and tension in the team. By the end, you can see backfires in the results. So, be careful when you get agitated or emotionally triggered, and learn how to manage your emotions to express them intelligently.

4. Have regular online meetings and gather your team to bring them into sync
Imagine that you are developing an android application. You did hire an android developer or a team of developers for this reason. Having regular weekly or biweekly meetings with them has several benefits for the progress of the team productivity which are:
It keeps every member of the team up to date and well informed about the status quo of the project.
It makes each employee prepare some results for the meeting which makes the team progress steadily and effectively.
Having these regular meetings reminds every team member about the goals and missions of the project. And aligns them to the most efficient path to this ending point.
Staff meeting allows members of the team to think together and reach solutions. These solutions might not have been found had they not thought and interacted with each other.
5. Demand from the employees to be result-oriented
Work culture is evolving and instead of being time-oriented, it is shifting to be result-oriented; (that's why we are moving toward hiring freelancers instead of full-time employees).
This shift needs to be taught and asked by the employees who are used to working on a timely basis as well. It could become result-oriented when we quantify the results into numbers and data that are measurable. The name is, Key Performance Indicators (or KPIs), and these KPIs have become a part of many job requirements in recent years and are increasingly becoming popular.
Having KPIs and following them in order to achieve results requires some adjustment in the style of management; and also needs to be taught to the workforce. Therefore, in order to quantify performance and progression, we, as managers and leaders need to start using and implementing these indicators first in our own performance and demand them from our teams next.
6. Be a role-model
Employees usually follow their managers when it comes to job quality and how complete and thorough they perform their jobs. If the manager does his/her job with high standards, then normally the employees will follow suit and if not, there can be no expectations from the employees. Then, there would be a chance to find team productivity.
Moreover, the manager normally embodies the core values of a company for his employees. Every company should have a mission that it operates by and the values that it aligns itself with. And every manager, in order to be a good role model for his employees, needs to follow these missions and values.
7. Use project tracking tools
Now that work is specialized enough for everyone to follow a certain set of detailed tasks and there are so many tasks to delegate to the teams, having a tool to manage the whole project and its including tasks could be necessary.
Imagine that you have a short commercials video project. You did hire an explainer video artist, you did hire a voice-over expert, and a motion graphic designer. The best way to make the connection between these professionals regard to handle their tasks is to use project tracking tools.
There are several decent project tracking tools that you could employ for your tasks and projects. And we are going to introduce a few of them here:
Trello:
An easy-to-use and simple software that has both a desktop and a mobile version. Trello is a dashboard-style app that enables users to create and move projects easily and categorize or delegate them in a few quick clicks. This dashboard's visual options make it an easy tool to work with and understand what is going on as well as what needs to be done.
Todoist:
Todoist is a more professional app for project management, and its premium version is something that will answer your needs most. It is available on different platforms and has a wide variety of options to use and manage your projects neatly.
Jira:
Jira is one of the popular project management tools. It allows users to assign, track, and document their tasks and projects. Jira is based on the Agile project management methodology; and like other Agile-based software, it continues to evolve and upgrade regularly.
---
You need to know that being a manager is an art and you need to be an artist and creative in applying the tools and methods that you own or learn, in the right place and at the right time. By learning these items, you are one step closer to getting prepared for this right time and the right place to use all these tools efficiently.