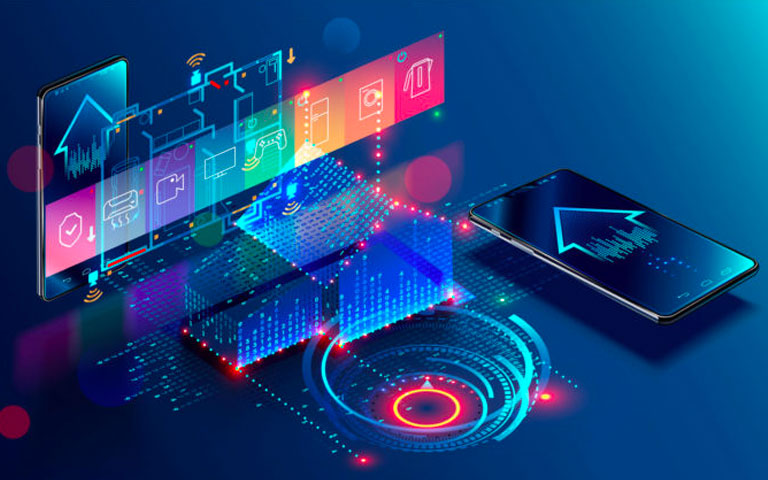 As technology progresses, skills that are becoming trendy and more in-demand change. In 2022, these in-demand skills have been the following:
Cloud Computing
Cloud computing experts store and access data and software on a cloud of servers that are available over the Internet instead of saving the data on a single server or computer.
What cloud computing offers is the on-demand availability of data resources. Resources such as data storage anywhere and anytime, without the users' need to actively manage these resources. 
Cloud computing minimizes IT infrastructure costs and speeds up the process of running an application. And these benefits make specialists in this field very in demand. Big companies such as IBM and Amazon are offering their cloud computing services now. Those companies who are going to use these services need skilled cloud computing experts in order to use these services. Since it is a rather new technology, the demand for experts in this field is higher than the experts available.
Data Science
Data science has been another in-demand skill in 2022. This is a combination of mastery in math, statistics, and computer programming. Since there are not so many professionals in the field, it is a highly in-demand skill.
It is also a high paying one. It's no surprise that Harvard Business Review has called it the "sexiest job of the 21st Century". Data science helps businesses make sense of the huge amounts of data they produce and create insights from them. 
This helps businesses be better at predicting future trends and how they can compete with their rivals. This is an essential part of the digital age as we should deal with big data. We cannot interpret these data without a scientific analysis if we just look at them independently of each other.
This is when data science can be of help. From the massive amount of data that data scientists and data analysts are dealing with, they can extract information and make solid predictions that couldn't be done otherwise.
Animation
Animation also has become one of the trendy and in-demand skills in 2022. Since we are in the Internet era and businesses want to increase their brand awareness as well as attract more customers through social channels, and due to more interest of users in videos than still pictures, companies are eager to create a video/animation representation of their products or services to showcase them online in an enticing way for their users.
And there are many companies who are in a transition to the online world and require different aspects of their business to gain an online identity.
From a designer's point of view, animation is still a complicated skill. It requires both creativity and a few coding skills. This puts it among the top-paying skills as well as in demanded ones.
To Work as a freelance animator or hire a freelance animator, you need to gain more information. What are the different types of animation services or what should you know before hiring an expert freelancer?
Digital Marketing
Among the in-demand skills that are most popular in recent years, digital marketing is one of the most varied in terms of the sub-skills it has. It is a combination of Search Engine Optimization (SEO), Social Media Management (SMM), Advertising, and Content Marketing, … and people working in these areas are usually specialists in one of these sub-skills. 
Digital marketing became very popular when websites and social media emerged. This is when businesses started their online presence and aimed for the most visibility and engagement on the Internet. It is still happening and businesses cannot drop out of this competition, or they will lose in this race and get lost in the myriad of data online.
Digital marketers help in keeping websites and social presence at the top of the game. This hasn't and isn't going to become any less important now and in the coming years.
Business Analysis
As a business analyst, you need to work on three levels. First, at the business level, you are looking at how business workflows operationally. Second, at the software level, you are dealing with how the software systems support the business workflow, and last, at the information level, you manage how data and information are stored and maintained by the organization. 
Although business analysts and data scientists are both data-focused roles, they differ in that a business analyst analyzes data and assesses requirements from a business perspective related to an organization's overall system.
Generally speaking, data scientists work more on the front end of the data collection and analysis business. They tend to develop more technical skills in the area of collecting and analyzing data. While business analysts typically focus on finding trends in data and developing ways to leverage that information to improve an organization's operations, data scientists tend to look more at what drives those trends.
Translation
Translation has been a long-time skill required throughout the world; which works both for facilitating communication between people from different parts of the world as well as transferring information from one language to the next. This increases knowledge of destination languages.
Although there has been a great effort in improving machine translation to the point that machines replace humans, this skill is still mostly in the domain of humans. We cannot get the quality of translation a human performs from a machine yet.
That's why we still need translators who work in different languages and this is a widely used skill. It doesn't seem to become obsolete anytime soon either. English to German, Dutch, English to Spanish translator, or Italian translator. These are all some of the highly demanding translator careers.
Mobile App Development
With the prevalence of mobile devices, the need for applications that perform tasks for us on them has increased. These applications make life easier and augment us beyond our natural capacities. We no longer need to remember our tasks, an app would remind us. We can find out about the weather forecast without waiting for the news to announce it. And many more, yet to be invented applications that can move us beyond our limitations.
These mobile applications are developed every day by mobile app developers. It's only the beginning of the era of app development, and it seems to become more and more in demand as time goes by.
That's why if you are working in this area, there are plenty of jobs that you can find and work in. If you do not have enough information about app developers, you can read this article and get the most important tips about how to be an app developer.
Artificial Intelligence
Artificial intelligence(AI) is still one of the in-demand skills in 2022. There is still so much to be done in this field. We are moving toward a goal to make machines intelligent to the point that they can perform human-like actions without error.
One of the recent applications of AI has been in driverless cars which is still an ongoing project. But doesn't end here. There are a great number of tasks that AI can perform for us. We need to develop machines, capable of doing them.
That's why AI experts and machine learning professionals are among the experts required by top-rated companies. Companies like IBM are investing in this field generously and they are getting promising results as well. This is a skill that not only the private sector is investing in, but also governments are also hiring for, top-level jobs with very high salaries. 
People Management
Moving from all the high-tech skills, we still need our soft skills to manage people and build successful businesses. These skills vary from leadership to problem-solving skills to micromanagement and many more skills in this area.
People Management will not be automated soon because it has many intricacies that are not easy to implement in machines; even not all types of personalities are able to perform well in this job. Therefore, people management is still a very in-demand skill and among the top-paying jobs.
---
These are the skills that are becoming more in demand in 2022 and more companies are looking for experts. Many of these in-demand skills are easy to perform remotely and as a freelance job and there are lots of freelancing businesses created around these fields in recent years.
For example, there are professional freelances from India and East Asia that perform well in IT jobs. Many East Asian freelancers are good at Technology-related jobs like Data Science and Programming.
There are bilingual or multilingual freelance translators from around the world who translate to and from their native language to English. There are Expert freelance designers and Animators who work remotely and perform top-quality results. You can find them all on freelancing platforms available online.