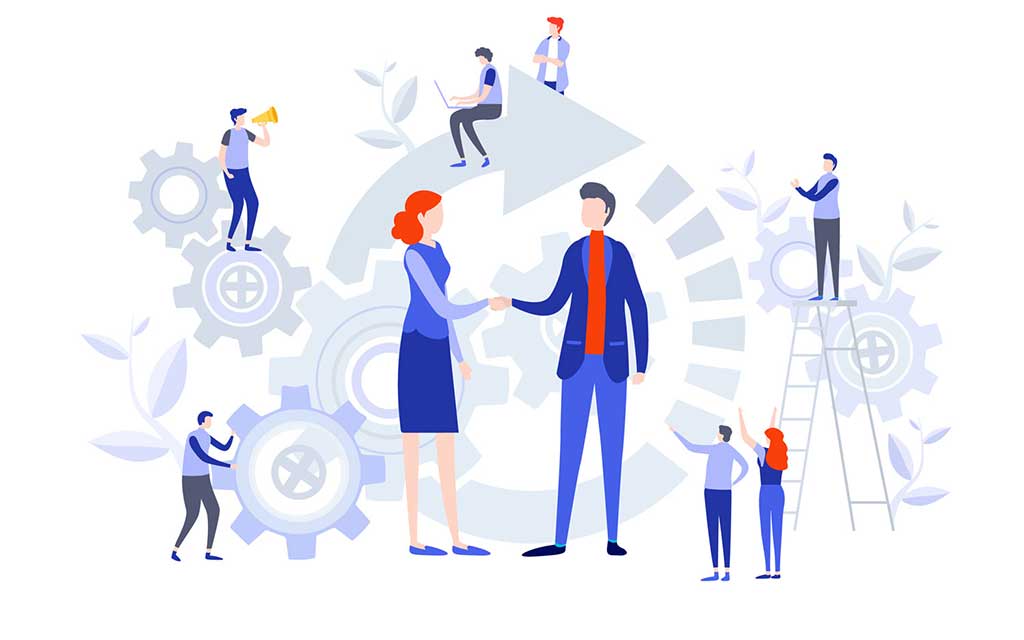 If you have newly started your business or you are in to start a small business and you are intending on hiring freelancers, you need to learn about how to manage the team of freelancers you are going to work with. There are many criteria you should take into consideration and we have listed the main points here for you.
Be careful when hiring
This is probably one of the most crucial steps of all. When you want to hire a freelancer, you need to consider if their expertise is exactly relevant to your needs and demands, whether they are proficient enough in the area they are working in, and whether their past projects finished satisfyingly. 
One of the items that are easy to check if you are using a freelancing platform is by checking their reviews and ratings. A rating of 3 or less is suspicious enough for you to be careful when hiring. Clients usually hire people with a rating of 4 and higher, because with that high of a rating, it's usually easier to judge the quality of work you will receive. 
Another thing that you need to take into account when hiring a freelancer is to chat with them and see how easy-going and composed they are in communication. If they would be qualified but hot-tempered and not easily accepting criticism, then that should be a red flag you need to be careful about. Read more advanced information about how to hire a freelancer here.
Brief the freelancers on the project
Before starting to work with a freelancer, let them know what the project pathway is and how you expect them to fulfill the task they need to do. If they seem unsure of their capabilities, you will know that early on and can decide sooner than later, and if they are competent to finish the task, you will see that within the conversation you have with them. It's important to let them know about all the details and expectations you have from them for them to be able to deliver the best possible results.
Get them to know the other team members
Aside from knowing the project, when a freelancer is working as a part of a team within a project, it's better if they get to know one another and be able to communicate with each other. Once you are working as a team, there are parts of a job that different professionals look at and understand differently and unless they talk about them, it's not possible for them to reach a mutual understanding and deliver an integrated result. 
This understanding happens organically when a team works physically in one location because they interact and discuss the project while working on it, but it doesn't happen naturally for the freelancing teams and needs to orchestrate by a person who manages the team.
Perfectlancer works as a free team management platform for employers. It lets them manage the freelancers and teams easier than ever before.
Familiarize them with your goals and values
For a team,  be it a team of freelancers or full-time employees, knowing the goals and values they are working by, helps them become more successful at reaching and realizing them more easily than if they don't. These goals and values are like having a certain destination and the signs that show the path. 
Without a clear destination and without a clear path, people might drift away from the right path. Having a goal and showing and reminding the team about it within the process of the work will help them not get diverted from it and realize it quickly and easily.
Set clear expectations
When you work with a group for a long time, they get to know you and learn about your personality and principles, your demands, and what you expect from them. But with the freelancers, you usually do not work for very long and they don't know you very well, neither do you know them very deeply and thoroughly. 
By talking clearly about your expectations, your beliefs about the job and what you need of them to do, and how, they will get on track much quicker and will do as you intend them to. Rather than learning to adapt to the job and their employer the hard way.
Use tracking tools
Aside from the abstract items that you need to consider when managing a team of freelancers, there are aspects of the job that need to be measured physically. Things like the time freelancers spend on the job; and for that, there are many time tracking tools that not only measure the time one spends on a task but lets the freelancer write the details of what he/she has done within a specific range of time for the project.
This way the client, when he has delegated an hourly task to someone, can track their performance in a solid way so that both parties are trusting each other while working together.
Make the experience worthwhile for both you and them
If you find a valued freelancer, one who does the job perfectly, you want to keep them for your next projects as well. After all, it's not usually easy to find someone with whom you can be completely satisfied to work. That's why, when you find a person or a team that you are content with their performance, let them know about it and give them positive feedback whenever possible.
Let them know that they are enough valuable and that your collaboration with them will continue even after this project will finish. Also, give them good ratings and write an explanatory positive review so that they know their efforts have been appreciated. 
And whenever they need mentoring and coaching, give it to them and help them grow and prosper. If there's a freelancer who is not performing optimally, help them improve. Do it by giving them constructive feedback and letting them do the same with you too.
It might seem difficult to work with freelancers in the beginning. But once you learn how to manage them, working with freelancers more often than not becomes an easy task. And you get to do much more with much less budget and effort. 
You only need to take into consideration the points mentioned above when starting to work with freelancers. You need to gain more information about how remote working can help to grow your business, and take the advantage of this culture. After a few experiences, you'll get used to this type of contract-based delegation; and your projects will finish with both satisfaction and ease.