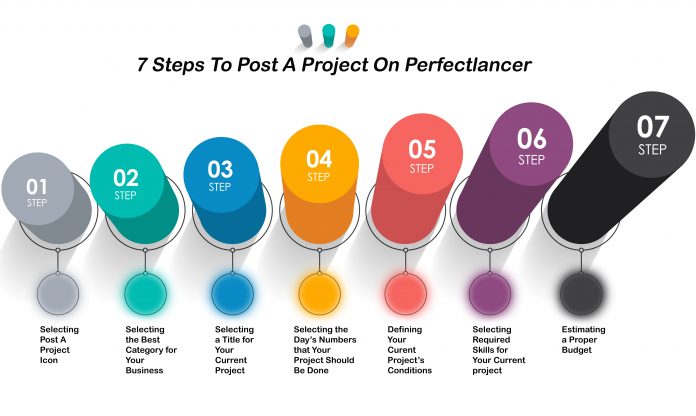 Welcome to Perfectlancer!
We're excited you've joined and looked forward to helping you make the most of your membership. If you are a freshman and haven't started your experience on Perfectlancer yet, then in the below article, you'll find some helpful information to get you started.
This title would help you to move easily through different steps of registration and avoid the usual mistakes and answering your frequent questions. Later on, you'd get familiar with the "Posting a Project" procedure. So, If you don't see a topic covered here, try searching for it in our Help section.
Moreover, you can follow all the current procedure on our YouTube channel:
So, let's get to start our journey!
Step 1: Selecting "Post a Project" Icon
On the main page of Perfectlanecr, you could find the "Post a Project" icon on the toolbar.
Step 2: Selecting the Best Category for Your Business Project
Which category would be a better fit for the current project that you want to post here? Then, go with that one. Here, we would move on with the Mobile App Development category. You can also find more tips about How To Hire An App Developer on this platform.
Step 3: Selecting a Title for Your Current Project
A brief title could help the freelancers to easily follow their favorite projects. In other words, It's your "Project Name". For example, "Startup App Development".
Step 4: Selecting the Day's Number that Your Project Should Be Done
How long would you prefer to work on your project? Because Freelancers need to know their deadlines to fix all their duties and provide their specific schedules.
Step 5: Defining Your Project's Conditions
The best definition would increase your project's validity and reliability.
In this section, start to talk a little bit more about your general ideas and what you need to do about your project. From where freelancers should start and what kind of requirements do you have for doing the project. It's better to mention all the possible conditions. Plus, you have the chance to upload files that are relevant to your current project. There is no limitation in the formats of these files.
For instance:
We are a startup that needs to build key features and also need support with other projects as well and have a collaboration. we need an app developer who is in LA because of the company located here. The time duration of the collaboration is 20 days but would be extended. The most important skills which are required:
Programming languages
React apps
CSS (bootstrap)
You can also have contact with us for further information.
Step 6: Selecting Required Skills For Your Current Project
What are the skills that can describe clearly your project fields? The selected skills, working like keywords in the Perfectlancer search engine. Freelancers would be notified through an email, that you post a project based on their relevant skills.
Just to be sure, uploading at least 3 skills to catch a higher rate in your project's visibility. Also, there is the possibility to have some suggested skills in regard to the title that you've chosen for your project, to help you selecting easier the skills.
Step 7: Estimating a Proper Budget
As an engagement for your freelancers, there is a need to justify your proper budget. This amount would be per project.
and you are done!
we are hopeful, that you can have your best experience of working with us. If you have any suggestions or more relevant information, please write to us.
waiting for you and see you soon.